This is a Self-Guided tour
This means that you will pedal or walk free at your pace following maps and tracks received during our pre tour briefing at your arrival. We will advise you where to have lunch and dinner, about sightseeings along the road and where to find technical assistance.
You can start on any day of the year.
7 days / 6 nights
From: 997€ 850€ per person
(if you book before Oct 1)
Ask for a Quote
Prices vary based on departure season.
I want this Tour Guided!
Day to Day
| | | | |
| --- | --- | --- | --- |
| 1 | Arrival in Alghero | Up to 30 km | D |
| 2 | Alghero and Capo Caccia | Up to 60 km | B |
| 3 | from Alghero to Bosa | 45 km | B |
| 4 | from Bosa to Tresnuraghes | 25 km | B D |
| 5 | from Tresnuraghes to Santu Lussurgiu | 37 km | B D |
| 6 | from Santu Lussurgiu to Cabras | 35 km | B |
| 7 | Arrivederci! | | B |
Legenda: B: Breakfast L: Lunch D: Dinner;
Highlights
Alghero with its Catalan heritage
Alghero-Bosa Coastal road
Malvasia di Bosa and Vernaccia di Oristano wines
A gourmet dinner in Santu Lussurgiu
Pink flamingos at Sinis Peninsula
Bottarga (Grey Mullet roe) of Cabras
Included
6 nights in charming hotels in double occupancy
6 breakfasts + 3 dinners
Welcome meeting and tour explanation
Maps, route notes or GPS tracks
Transfer in from Alghero Airport
Transfer out to Alghero or Cagliari Airport
Luggage transportation inn2inn
Telephone assistance
Full Program
---
DAY 1
Accommodation
Hotel Angedras
Dinner
La Movida - Alghero
Welcome in Sardinia
Alghero is a catalan heritage town, with a typical network of narrow streets and old ramparts overlooking the sea, a charming place to start your week. We welcome you at Alghero Airport. At the hotel we'll introduce the tour and we'll help you out with the bike fitting. According to arrival time we'll have a short warm up ride just to explore the nice rural countryside of Alghero.
---
DAY 2
Activity
Cycling
Distance 60km
Climb 400mt
Accommodation
Hotel Angedras
Dinner
On Own - Alghero
Alghero and Capo Caccia Loop
We start cycling along the nice town beach. After the hamlet of Fertilia, we stop for visiting the prehistoric meghalitic fortress of Nuraghe Palmavera. If we don't mind to add some uphill we can climb up to Capo Caccia, an imposing limestone cliff 168 m high, which is a real landmark along the west coast of Sardinia. Before going back to the hotel, it is mandatory to stop for a swim in one of the wonderful beaches in the area: Le Bombarde beach, Il Lazzareto beach or Pineta Mugoni.
---
DAY 3
Activity
Cycling
Distance 42km
Climb 850mt
Accommodation
Hotel Sa Pischedda
Dinner
On Own - Bosa
From Alghero to Bosa
From Alghero, you ride South till Bosa, along 45 kilometers of a quiet and dramatic road. Bosa is a village dominated by the Serravalle Castle and is one of the liveliest places on the entire island, as you can also tell by the vivid colors of its houses. It is also known for its Malvasia wine and for its carnival, Su Carrasegare Osincu.
---
DAY 4
Activity
Cycling
Distance 25km
Climb 600mt
Accommodation
Villa Asfodeli
Dinner
In Hotel
From Bosa to Tresnuraghes
After leaving Bosa, you'll reach Bosa Marina in two kms, riding along the bay of Turas, then the road climbs along the hills of Modolo and Magomadas surrounded by olive groves and vineyards of Malvasia. Don't forget to stop to admire the beach of Porto Alabe. The route then climbs back up to Tresnuraghes, a village of rural traditions with a beautiful views over the hills and the sea.
---
DAY 5
Activity
Cycling
Distance 37km
Climb 650mt
Accommodation
Antica Dimora del Gruccione
Dinner
Gourmet in Hotel
From Tresnuraghes to Santu Lussurgiu
Today's itinerary takes you into the heart of Montiferru, with its views across the Marghine range and views of the West coast as far as the eye can see, passing then through Flussio and Sagama , arriving to San Leonardo de Siete Fuentes. The final destination is Santu Lussurgiu, a charming village where you must take a stroll through its old and narrow streets to discover its artisan workshops where fine handcrafted items, such as knives, jewelry, and beautiful leather goods are created.
---
DAY 6
Activity
Cycling
Distance 35km
Climb 90mt
Accommodation
Hotel Aquae Sinis
Dinner
On Own - Cabras
From Santu Lussurgiu to Cabras
The route crosses the Montiferru region, a very important olive oil production area. When the mistral wind blows (many days during the year), views are absolutely beautiful, reaching over the promontory of Capo San Marco and the Isle of Maldiventre. You'll start with a nice downhill, taking you to Bonarcado to admire its majesti Romanesque church of Santa Maria - along with the interesting Byzantine sanctuary of Nostra Signora di Bonacattu. A lovely path will lead you to the protected marine Area of Sinis, with its wetlands and pink flamingos. The trip ends in Cabras, a town of rich culinary uniqueness, like the Vernaccia wine of Oristano and the bottarga (dried and salted mullet roe).
---
DAY 7
Departure
Arrivederci!
It's time to say goodbye, but we bet that at this point you would rather stay 🙂
Map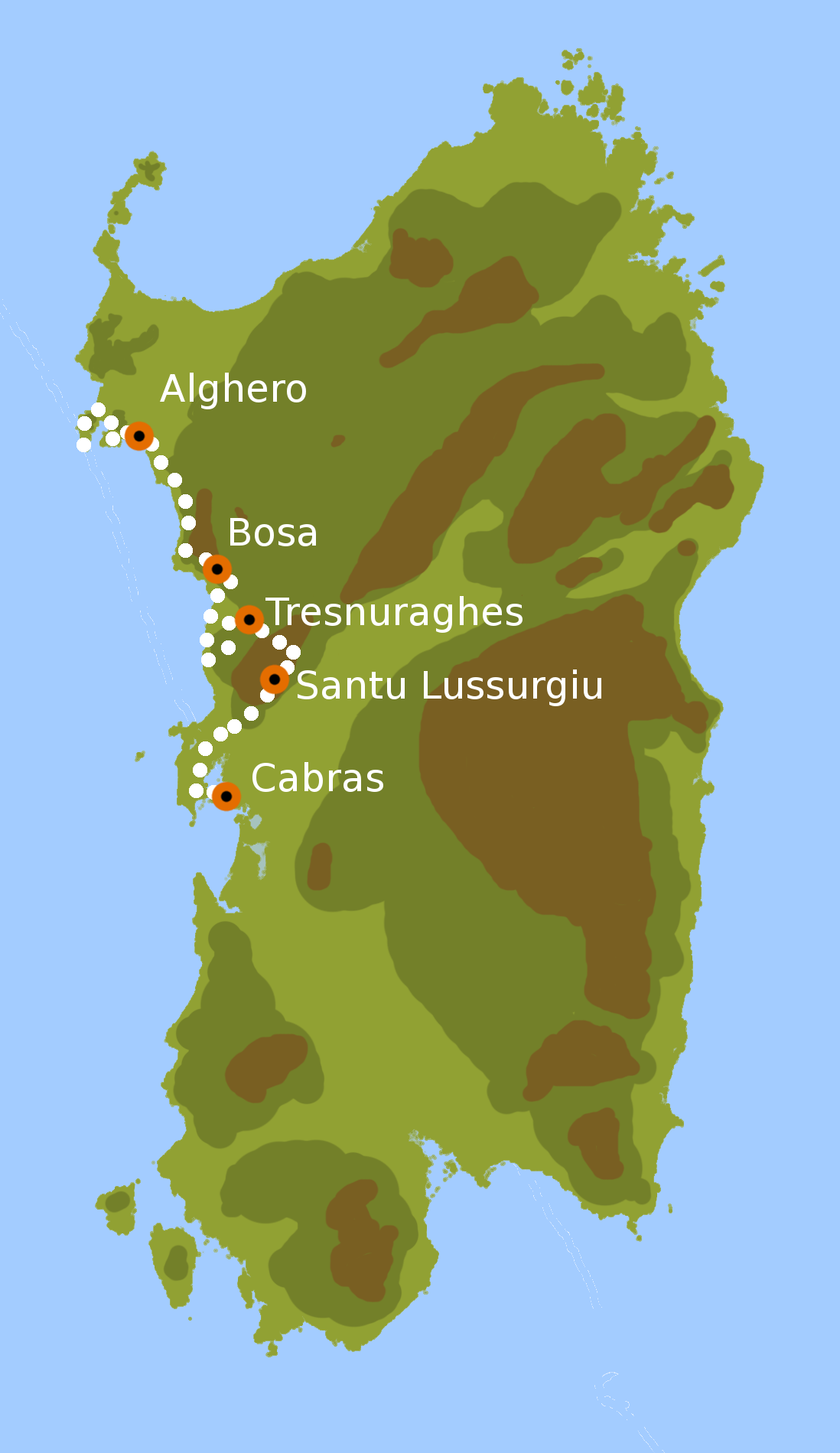 ---
Price and Supplements
Tour Price*:
€ 850 per person
Deposit:
30%,
Balance:
30 days before departure
This price includes:
6 nights in charming hotels in double occupancy
6 breakfasts + 3 dinners
Welcome meeting and tour explanation
Maps, route notes or GPS tracks
Transfer in from Alghero Airport
Transfer out to Alghero or Cagliari Airport
Luggage transportation inn2inn
Telephone assistance
Solo Traveller: € 250
Single room supplement: € 150
E-Bike: € 225
Road Bike - Flat Bar Carbon + Ultegra: € 225
Trekking Bike: € 135
High season supplement: € 250 (Jun 25 - Sep 03)
*Price per person based on 2 guests in double room. This price must be confirmed by our booking team
---
Flex Rate
more than 60 days - 100% refund of deposit
60 days to 30 days - 70% refund of the trip price will be made
29 days to 15 days - 50% refund of the trip price will be made
14 days to 0 days - 100% cancellation fee
---