Epic bike journey across 3 beautiful yet so diverse islands, Corsica, Sardinia and Sicily. What makes them unique?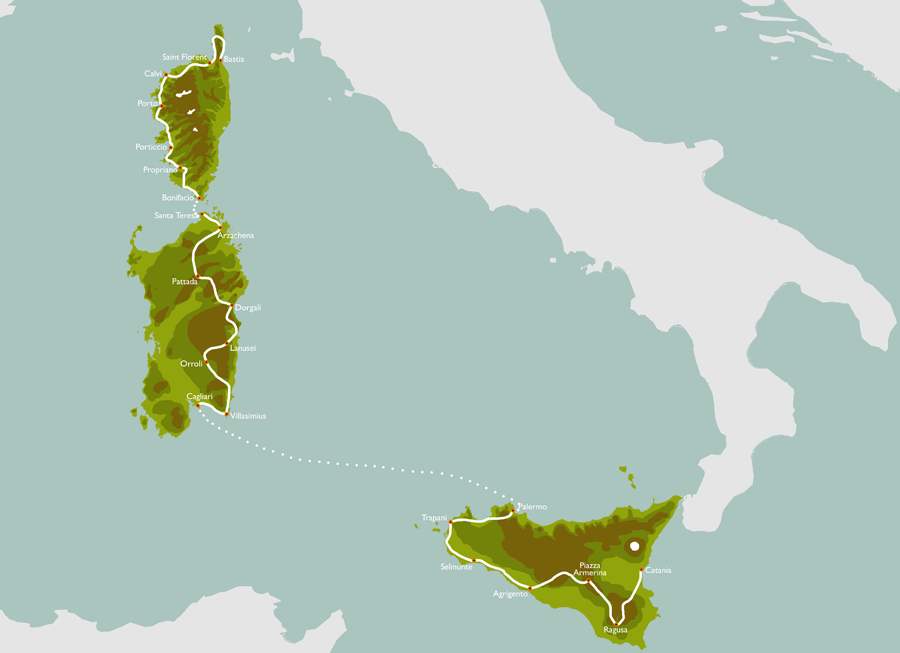 Ok, there is no question that we are talking about 3 cycling paradises, and certainly you fall madly in love with each one of them. But what really makes them different?
The sun, the beauty and quality of life would seem to be the only features shared by these three islands.
In fact, despite their proximity, this three jewels of the Mediterranean have a very different history, landscape, gastronomy and national character, sometimes wildly different!
I mean, if you are in Corsica with a smile on your face they may ask themselves: "Is he okay??".
If you are in Sicily without a smile on your face they may ask directly to you "Are you okay??".
Those differences make the wealth of the Mediterranean. As we'll cross the islands by bike, sometimes they'll look so similar, then suddenly we'll discover something unique, making them looking like worlds apart.
Come on, let's learn more about similarities and differences that we will discover along our journey:
Landscapes and landmarks
Corsica

– Les Agriates, Les Calanques de Piana, Bonifacio cliffs

Sardinia

– Costa Smeralda, Supramonte, Nuraghe Arrubiu

Sicily

– The Cathedral of Monreale, Ragusa Ibla, Etna volcano
Rides
Corsica

– The road D81 from Piana to Porto

Sardinia

– The road SS125 from Dorgali to Baunei

Sicily

– The road SS187 from Balata di Baida to Valderice
Traditional music
Corsica

– Paghjella

Sardinia

– Canto a Tenore

Sicily

– U Ballettu
Three Wines
Corsica

– Niellucciu, Scicarellu, Muscatel

Sardinia

– Vermentino di Gallura, Nepente, Malvasia di Cagliari

Sicily

– Marsala, Cerasuolo di Vittoria, Zibibbo
Three Cheese
Corsica

– Brocciu, Niolo, Casgiu Sartinesu

Sardinia

– Fiore Sardo, Casizzolu, Pecorino Romano

Sicily

– Caciocavallo, Canestrato, Ricotta secca
Three Dishes
Corsica

– Aziminu, Figateli, Canistrelli

Sardinia

– Suppa cuata, Maccarrones de Punzu, Sa Burrida

Sicily

– Arancini, Caponata, Cannoli.
Fruits and vegetables
Corsica

– Clementine, Chestnuts and Hazelnuts

Sardinia

– Carciofo spinoso, Grano Cappelli, Oliva bosana

Sicily

– Tarocco siciliano, Capperi, Eggplant
Personalities
Corsica

– Pasquale Paoli, Napoleone Bonaparte, Angelo Mariani

Sardinia

– Antonio Gramsci, Grazia Deledda, Paolo Fresu

Sicily

– Federico II, Luigi Pirandello, Giuseppe Tornatore
Bandits
Corsica

– André Spada

Sardinia

– Samuele Stocchino

Sicily

– Salvatore Giuliano
Famous Cyclist
Sardinia

– Fabio Aru

Sicily

– Vincenzo Nibali

Corsica

– He's coming… 🙂
To discover all those wonderful experiences you need at least three weeks…what about from next April 23 to May 14, or from next September 17 to October 7 ? See more
[form-medride]