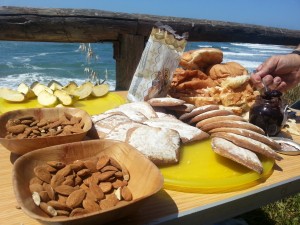 We as cyclo-tourists have taken to heart the lesson "man is what he eats", always eating properly (at least, during our rides!) but without forgetting our personal tastes. We cyclo-tourists of the ancient land of Sardinia can enjoy what is an authentic alimentary treasure trove, very rich both from nutritional and tasty point of view (which are, unfortunately, too often on the verge of being lost because of the irrationality of a trade that leaves consumers' needs out and – let us say – because of consumers' lack of propensity for information.
Sardinia Grand Tour has decided to support Coldiretti and Campagna Amica, by offering their excellent products and sharing environmental, social and economical sustainability, which, through equal distribution between workers' income and consumers' satisfaction, represent the key to reinstate the role of the job as driving force for individual and social growth.
If you also consider that for us eating well and tasty is the basis to live well, you can understand our choice of leading you, ideally through a series of posts and physically through Sardinia Grand Tour net, to discover the Sardinian agro-alimentary richness. We are going to explore the land to narrate those food and cultures you will meet during your next bike trips in Sardinia.
Follow us![:]