This is a Self-Guided tour
This means that you will pedal or walk free at your pace following maps and tracks received during our pre tour briefing at your arrival. We will advise you where to have lunch and dinner, about sightseeings along the road and where to find technical assistance.
You can start on any day of the year.
8 days / 7 nights
From: 1500€ 1200€ per person
(if you book before Aug 30)
Ask for a Quote
Prices vary based on departure season.
I want this Tour Guided!
Day to Day
| | | | |
| --- | --- | --- | --- |
| 1 | Arrival in Alghero | | - |
| 2 | from Alghero to Tresnuraghes | 60 | B |
| 3 | from Tresnuraghes to Fordongianus | 70 | B |
| 4 | from Fordongianus to Aritzo | 60 | B |
| 5 | from Aritzo to Orroli | 65 | B |
| 6 | from Orroli to Costa Rei | 90 | B |
| 7 | from Costa Rei to Cagliari | 75 | B |
| 8 | Arrivederci! | | B |
Legenda: B: Breakfast L: Lunch D: Dinner;
Highlights
Alghero and its Catalan heritage
Alghero-Bosa coastal road
Fordongianus thermal baths
Mandrolisai wine
The sardinian secret of longevity
Coast and beaches before Cagliari
Included
7 nights in charming hotels in double occupancy
7 breakfast
Luggage transportation inn2inn
Maps, route notes or GPS tracks
Telephone assistance
Transfer IN from Alghero Apt
Transfer OUT to Cagliari Apt
Full Program
---
DAY 1
Accommodation
Hotel Angedras
Arrival day
We'll welcome you at Olbia Airport and we'll tranfer you to the hotel. After a briefing of the whole tour, we'll help you with the bike fitting, then we'll celebrate your first day in Sardinia with a glass of local Torbato, a perfect way to start our adventure with style!
---
DAY 2
Activity
Cycling
Accomodation
Hotel Villa Asfodeli
Distance 60km
Climb 1200mt
From Alghero to Tresnuraghes
In the morning we ride along the rugged coastline that connects Alghero to Bosa, an unforgettable 40km road of constant ups and downs, through cliffs, coves and lovely views. From Bosa we take the hills of Planargia that, through neat Malvasia vineyards, lead us to our hotel in Tresnuraghes, overlooking the valley of olive trees sloping down to the sea.
---
DAY 3
Activity
Cycling
Accomodation
Grand Hotel Terme
Distance 70km
Climb 1100mt
From Tresnuraghes to Fordongianus
Just after Tresnuraghes we enter the Montiferru region, named after the volcanic massif we are going to cross, here we challenge the longest climb of the day, known as La Madonnina, taking us to almost a thousand meters above sea level immersed in a thick oak forest, before reaching Santu Lussurgiu. Then we descend gradually to the Tirso valley, that we cross twice before to reach the ancient Roman thermal settlement of Fordongianus (ancient Forum Traiani) on the Tirso river banks. The hotel offers natural thermal baths, a perfect spot to relax and finish a perfect day.
---
DAY 4
Activity
Cycling
Accommodation
Hotel Sa Muvara
Distance 60km
Climb 1600mt
From Fordonginaus to Aritzo
Today's itinerary is mostly climbing, getting up to Gennargentu range, which includes the Sardinia peak Punta La Marmora, also known as Perdas Carpìas. The route starts along Tirso river banks and brings us to the chestnut woods of Aritzo, in the middle of the Barbagia di Belvì, passing through the town of Samugheo, which is known for its handmade carpets of excellent workmanship and for the full bodied Mandrolisai wine.
---
DAY 5
Activity
Cycling
Accommodation
Hotel Omu Axiu
Distance 65km
Climb 1250mt
From Aritzo to Orroli
We leave behind the rocky profile of Texile and we set off downhill towards Gadoni and the Flumendosa valley, which we follow until the gates of Ogliastra. Here you will be surprised by the wild beauty of nature, where the action of erosion of the river and its tributaries have carved valleys, creating bizarre shaped rocks, such as the characteristic "Heels", limestone plateaus with high white cliffs, creating unique landscapes in this beautiful corner of Sardinia. The canyon that closes the lake Flumendosa brings us to the arrival on the plateau of Orroli, village symbol of longevity in Sardinia.
---
DAY 6
Activity
Cycling
Accommodation
Agriturismo Sarrabus
Distance 90km
Climb 900mt
From Orroli to Costa Rei
After a short stretch on the plateau, dominated by the wonderful megalithic complex of Nuraghe Arrubiu, we pedal down into the valley of the Flumendosa river, ending by the sea in Muravera. The lagoons inhabited by pink flamingos and rare birds, lines the countryside and some of the most generous citrus groves of Sardinia, before reaching the beautiful beaches of Costa Rei.
---
DAY 7
Activity
Cycling
Accommodation
Hotel Italia
Distance 75km
Climb 650mt
From Costa Rei to Cagliari
The long sandy beach of Sant'Elmo give way to the charm of the coast and to the dream beaches of the Marine Protected Area of Capo Carbonara. From Villasimius we continue along a fun route, in a suggestive succession of cliffs and white sandy beaches, granite hills and ancient spanish towers. Today will be very difficult to resist the temptation to dive in one of the many beaches with crystal clear water: Feraxi, Piscina Rei, Cala Sinzias, Cala Pira, Punta Molentis, Simius, Notteri, Porto Sa Ruxi, Solanas, Torre delle Stelle, Geremeas, Mari Pintau, Cala Regina...then, a nice bike path running along the 7 km Poetto beach, will lead us to the center of Cagliari.
---
DAY 8
Departure
Arrivederci!
It's time to say goodbye, we'll shuttle you to Cagliari airport, but we bet you'll be in love with Sardinia!
Map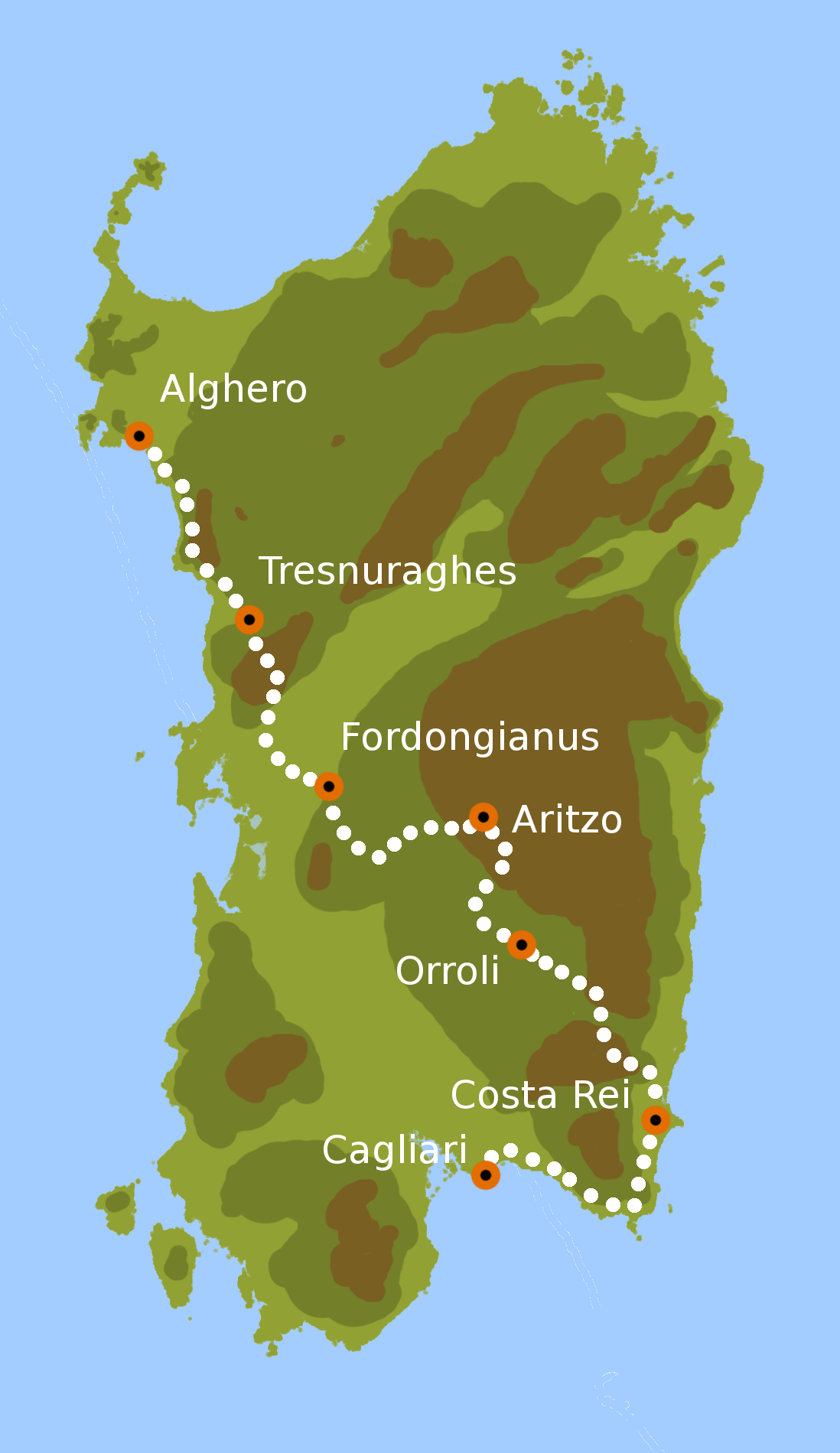 ---
Price and Supplements
Tour Price*:
€ 1200 per person
Deposit:
30%,
Balance:
60 days before departure
This price includes:
7 nights in charming hotels in double occupancy
7 breakfast
Luggage transportation inn2inn
Maps, route notes or GPS tracks
Telephone assistance
Transfer IN from Alghero Apt
Transfer OUT to Cagliari Apt
High season supplement: € 250 (Jun 26 - Sep 04)
Single room supplement: € 150
Solo Traveller: € 250
E-Bike: € 220
Road Bike Carbon + Ultegra: € 220
Trekking Bike: € 135
*Price per person based on 2 guests in double room. This price must be confirmed by our booking team
---
Flex Rate
more than 180 days - 100% refund of deposit
61 days to 179 days - 50% refund of deposit
60 days to 16 days - 50% refund of trip cost
15 days to 0 days - 100% cancellation fee
---