This is a Self-Guided tour
This means that you will pedal or walk free at your pace following maps and tracks received during our pre tour briefing at your arrival. We will advise you where to have lunch and dinner, about sightseeings along the road and where to find technical assistance.
You can start on any day of the year.
7 days / 6 nights
From: 1570€ -14758€ (if you book before May 31) per person
Ask for a Quote
Prices vary based on departure season.
I want this Tour Guided!
Day to Day
| | | | |
| --- | --- | --- | --- |
| 1 | Arrival and Warm up | 20 km | D |
| 2 | From Torre dei Corsari to Buggerru | 67/60 km | B D |
| 3 | From Buggerru to Sant'Antioco | 65 km | B D |
| 4 | Loop of Carloforte and Sant'antioco | 60 km | B |
| 5 | From San'Antioco to Teulada | 40 km | B D |
| 6 | From Porto Pino to Pula and Cagliari | 60 km | B D |
| 7 | Arrivederci! | | B |
Legenda: B: Breakfast L: Lunch D: Dinner;
Highlights
The dune of Piscinas
The Sulcis mines
Porto Pino and the South Coast
Dinner in Cagliari downtown
Sea view downhills
Carloforte and Tuna fishing
Included
6 nights in charming hotels in double occupancy
6 breakfasts + 5 dinners
Welcome meeting and tour explanation
Maps, route notes or GPS tracks
Transfer in and out from Cagliari Airport
Luggage transportation inn2inn
Telephone assistance
Full Program
---
DAY 1
Activity
Warm Up
Accommodation
Torre Hotel
Torre dei Corsari
Dinner
Ristorante Mates
Benvenuti in Sardegna!
We can warm up and test bikes in the afternoon going to discover the famous dune of Piscinas Beach, one of the largest of Europe, visible even by satellite.
---
DAY 2
Activity
Cycling
Distance 67/60km
Climb 1200/1100mt
Accommodation
La Rosa dei Venti
Buggerru
Dinner
La Baia da Tore
From Torre dei Corsari to Buggerru
Two option for today, both nice and scenic through the Sardinia mining history. The first one, of about 50 Km, leave Portu Maga to climb toward the "phantom" village of Montevecchio, an UNESCO Geo-Park. Here you can feel the history of this area of Sardinia. Then you'll pedal gently till the Passo Bidderdi where a fantastic downhill bring you to the mine village of Buggerru. The second option, 10 Km shorter, is to take the climb to Ingurtosu instead of the Montevecchio one. Harder that the first one, it give you the chance to pedal between the ancien gears and buildings of one of the main mines of Sardinia.
---
DAY 3
Activity
Cycling
Distance 65km
Climb 840mt
Accommodation
Muma Hostel
Sant'Antioco
Dinner
I 2 Fratelli
From Buggerru to Sant'Antioco
Big climb today as a day start... But then, 2 beautiful downhills with sea view till the beach of Funtanamare are waiting for you. We'll reach then the village of Porto Scuso for an Ice Cream and then 25 km of a flat road to reach the island of Sant'Antioco, connected to Sardinia main land by a bridge since the Roman Empire epoc. The downtown of this pretty fishermans village, rich of traditions, will be the place of our dinner.
---
DAY 4
Activity
Cycling
Distance 58km
Climb 600mt
Accommodation
Muma Hostel
Sant'Antioco
Dinner
On Own
The loop of 2 islands
Today we'll spend our rides discovering the 2 islands of south Sardinia. We'll start with the loop of San Pietro island, then, after 30 minutes by ferry, we'll ride the loop of Sant'Antioco island, our final destination for today.
---
DAY 5
Activity
Cycling
Distance 55km
Climb 577mt
Accommodation
Agriturismo Sa Tiria
Teulada
Dinner
Agriturismo Terranieddas
From Sant'Antioco to Teulada
We leave Sant'Antioco island along the salt works, dotted by pink flamingos. After a stop in the picturesque village of Tratalias vecchia, built around the beautiful Romanesque Cathedral of Santa Maria, we'll cross the Sulcis countryside through artichokes fields and Carignano vineyards. The riding day ends in Teulada in a Agriturismo (holiday farm) where we'll have the chance to taste the typical Sardinian Dinner.
---
DAY 6
Activity
Cycling
Distance 47km
Climb 655mt
Accommodation
Hotel Italia
Cagliari
Dinner
Cagliari Downtown
The amazing Costa del Sud
The last leg of our tour starts with a rolling part overlooking Capo Teulada shores, this is just a warm up which make you ready to face the highlight of your tour: the amazing Costa del Sud. It's a little bit challenging road, going up and down along the coast...a little pain for your muscles but a joy for your eyes. We end in Pula, a lively town and the perfect place to celebrating before the tranfer to Cagliari for the final dinner downtown.
---
DAY 7
Activity
Departure
Arrivederci!
It's time to say goodbye, we really hope to see you again! But, depending of your return flight time, you can enjoy either a tour of the famous San Benedetto market or a short ride by bike between sea and pink flamingoes.
Map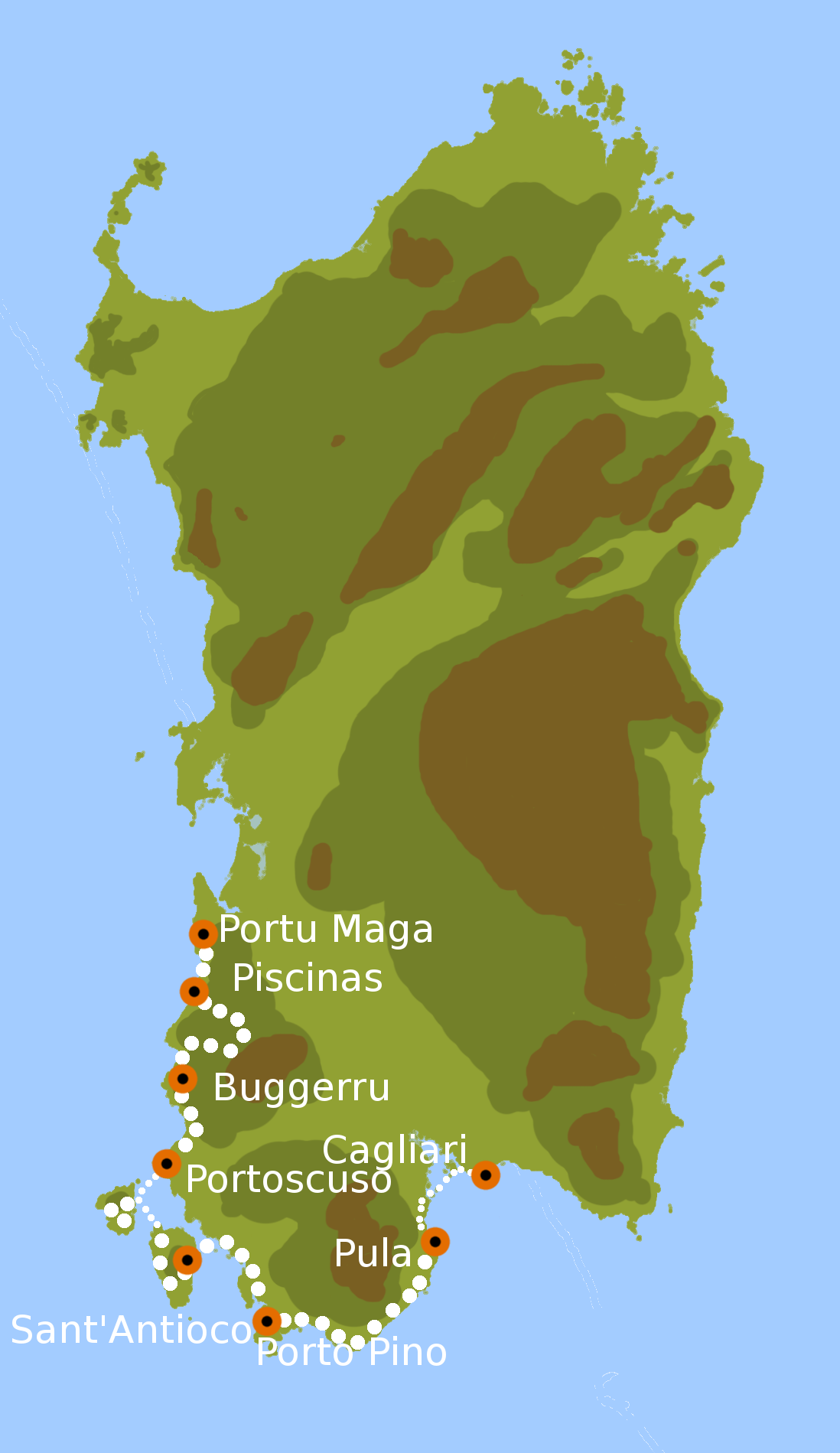 ---