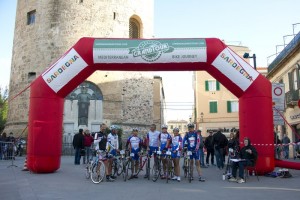 First day we rode the Randonnée crossing the north from Arzachena to Alghero, via Sant'Antonio di Gallura, Tempio, Castelsardo, Nulvi and Sassari. We covered 4 of the most beautiful stages of Sardinia Grand Tour for a beautiful C2C approved by the ARI/BRM certificate 200Km. All foods and refreshement has been selected and provided by local farmers (Coldiretti Sardegna), the watchwords were: local, tasty and healthy!
The last 3 days we came across the stunning west cost of Sardinia, from Alghero to Pula.
Find the videos of the journey on our Video Gallery.
Soon will set on line a complete photo gallery, but you can start to follow us on:
– Facebook with the hashtag #sardiniagrandtour.
– Instagram account sardinia_gt.
– Twitter with hashtag #sardiniagrandtour.
The interactive map which helps you to create your own Grand Tour of Sardinia is on-line at the The Route section!
Subscribe to our newsletter and stay tuned for the 2015 edition