This is a Self-Guided tour
This means that you will pedal or walk free at your pace following maps and tracks received during our pre tour briefing at your arrival. We will advise you where to have lunch and dinner, about sightseeings along the road and where to find technical assistance.
You can start on any day of the year.
8 days / 7 nights
From: 1300€ per person
Ask for a Quote
Prices vary based on departure season.
I want this Tour Guided!
Day to Day
| | | | |
| --- | --- | --- | --- |
| 1 | Arrival in Alghero | | D |
| 2 | from Alghero to Tresnuraghes | 60km - 1200mt | B |
| 3 | from Tresnuraghes to Cabras | 55km - 400mt | B |
| 4 | from Cabras to Buggerru | 100km - 1500mt | B |
| 5 | from Buggerru to Sant'Antioco | 70km - 770mt | B |
| 6 | The loop of 2 islands | 90km - 1300mt | B |
| 7 | from Sant'Antico to Pula | 85km - 1000mt | B |
| 8 | Arrivederci! | | B |
Legenda: B: Breakfast L: Lunch D: Dinner;
Highlights
Alghero and its Catalan heritage
Alghero-Bosa coastal road
Cabras with its lagoons and pink flamingos
Wilderness of Costa Verde
Majesty of Sulcis and its Carignano wine
South Sardinia coast and beaches
Included
7 nights in nice hotels or agritourism
7 breakfast + 2 dinners
Welcome meeting and tour briefing
Maps, route notes or GPS tracks
Luggage transportation inn2inn
Telephone assistance
Transfer in from Alghero airport
Transfer out to Cagliari airport
Full Program
---
DAY 1
Activity
Briefing and Warm-up
Accommodation
Hotel Villa Piras
Arrival day
Alghero is a Catalan heritage town with a typical network of narrow streets and a gorgeous promenade on the ancient bastions overlooking the ocean, a charming place to start your week in the Mediterranean. We'll introduce the tour and help you with the bike fitting. According to arrival time, we'll suggest a short warm-up ride to explore the lovely rural countryside of Alghero, with olive oil groves, orchards, and vineyards.
---
DAY 2
Activity
Cycling
Accomodation
Hotel Villa Asfodeli
Distance 60km
Climb 1200mt
From Alghero to Tresnuraghes
In the morning, we'll ride along the rugged coastline that connects Alghero to Bosa, which gives us an unforgettable 40km with constant up and down through cliffs, coves, and lovely views. From the 370 meters above sea level of Cape Marrargiu, which nests the last Griffon Vulture colony in Italy, we ride a fantastic downhill leading us to Bosa and its beautiful historical center dominated by the Malaspina Castle. From Bosa we climb the hills of Planargia that, through neat Malvasia vineyards, lead us to our hotel in Tresnuraghes, overlooking the valley of olive trees sloping down to the sea.
---
DAY 3
Activity
Cycling
Accomodation
Hotel Aquae Sinis
Distance 55km
Climb 400mt
From Tresnuraghes to Cabras
Just after Tresnuraghes we enjoy the colorful Murales in Sennariolo, and in a few hundred meters, we start climbing the Montiferru slopes up to Cuglieri. Here begins a long gradual downhill along olive groves enjoying a fantastic sea view on the coastline. In Cabras is clearly visible a strong and ancient fishing tradition, dating back to the Phoenicians, probably the ones that started the preparation of Bottarga, a delicacy of salted and cured fish roe extracted from the local flathead grey mullet.
---
DAY 4
Activity
Cycling
Accommodation
La Rosa dei Venti
Distance 100km
Climb 1500mt
From Cabras to Buggerru
Another spectacular ride, the hardest of the week, passed over the Marceddì lagoon, a place frozen in time. Then the majestic Costa Verde, a beautiful stretch of unspoiled coast along long empty beaches and small secluded coves. A little part of the gravel road through Piscinas dunes and abandoned mining villages gives us a taste of "strade bianche" epic ride and the chance to pedal between the ancient gears and buildings of one of the main mines of Sardinia. Then you'll pedal gently till the Passo Bidderdi where a fantastic downhill brings you to the mining village of Buggerru.
---
DAY 5
Activity
Cycling
Accommodation
Muma Hostel
Distance 70km
Climb 770mt
From Bugerru to Sant'Antioco
Big climb today as a day start... But then, two beautiful downhills with sea views to the beach of Funtanamare await you. We'll then reach the village of Portoscuso for an Ice Cream and then 25 km of a flat road to reach the island of Sant'Antioco, connected to Sardinia mainland by a bridge since the Roman Empire epoch. The downtown of this pretty fisherman village, rich of traditions, will be our dinner place.
---
DAY 6
Activity
Cycling
Accommodation
Muma Hostel
Distance 60km
Climb 600mt
The loop of 2 islands
We'll discover the two islands south of Sardinia in today's loop. They are so close but so different in history and landscapes. We'll head to Calasetta port, taking a 30min ferry ride to the Island of San Pietro, landing in Carloforte, a Mediterranean gem where Ligurian, African, and Sardinian cultures blend harmoniously. We'll spend the day exploring the salt works, lovely small beaches, and spectacular cliffs until the solitary lighthouse of Capo Sandalo. After the ride, we'll have time to immerse ourselves in this charming and colorful town, famous for the Red Tuna fishing tradition, still in use with the ancient technique of "Tonnare". In the afternoon, we'll take the ferry back to Calasetta. For the most avid riders, we can do a scenic 40 km ride along the whole coastline of the Sant'Antioco, dotted with secret coves, Spanish towers, and orchards.
---
DAY 7
Activity
Cycling
Accommodation
Hotel Italia
Distance 85km
Climb 1000mt
From Sant'Antioco to Pula and Cagliari
We've told you this tour has plenty of beauty. So what's more marvelous than the southern Sardinia coast? After a few km, we'll be enchanted by the neat Romanesque-Pisan architecture of the Cathedral of Tratalias, the surprise rises along the succession of secret coves and ancient Spanish watching towers, overlooking a sea with all shades of blue and green. The up and down ends in Chia, one of the gorgeous beaches on the whole island. We have just 15 km of the peaceful countryside until the legendary Nora, the Phoenician town conquered by the Romans, one of the most important settlements of the ancient Mediterranean. Pula is a lively town and the perfect place to celebrate before the transfer to Cagliari for the final dinner downtown.
---
DAY 8
Departure
Arrivederci!
It's time to say goodbye, but we are sure that you'll be in love with our Island! After breakfast we'll help you to arrange a transfer to the port or airport.
Map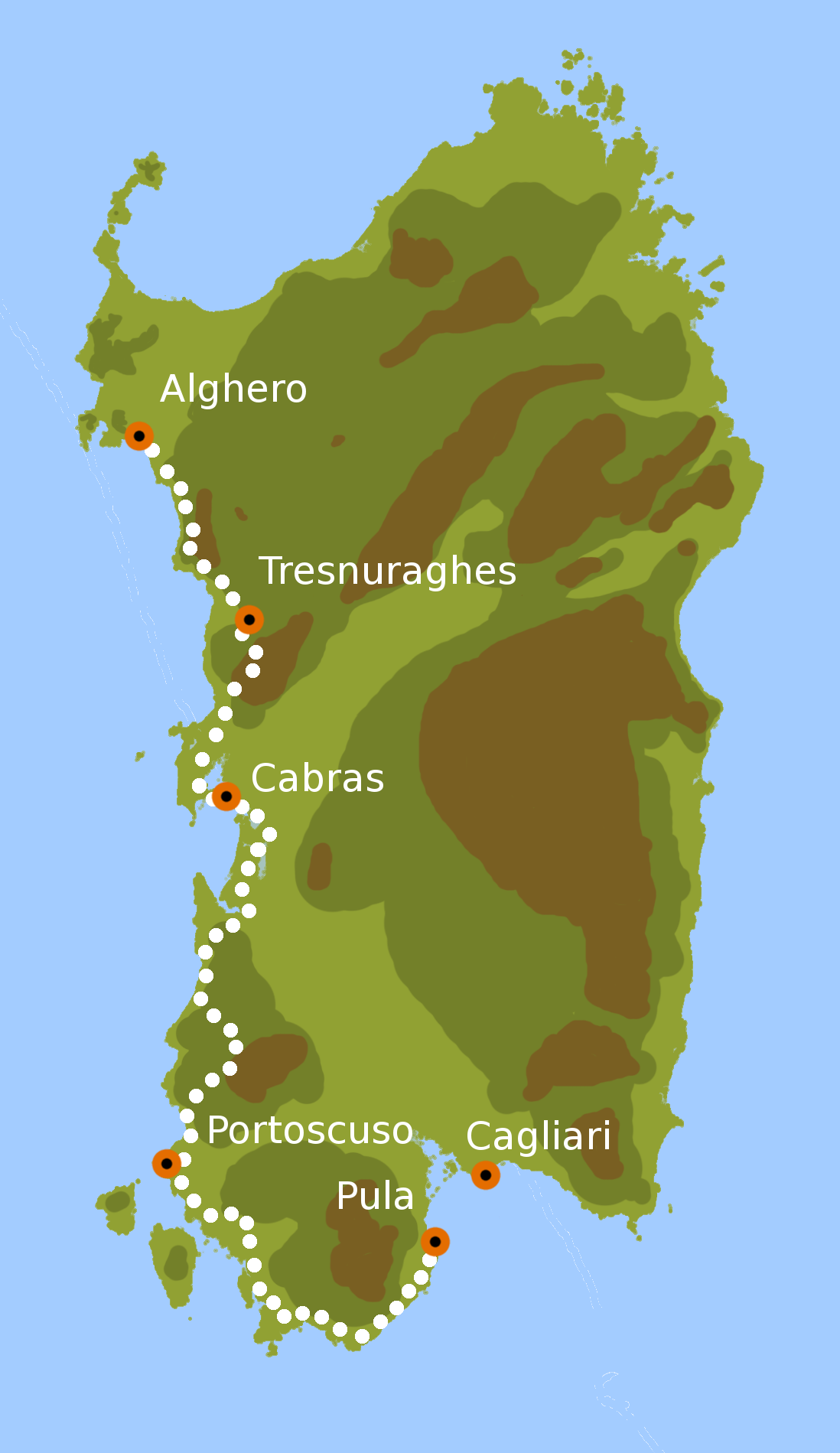 ---
Price and Supplements
Tour Price*:
€ 1300 per person
Deposit:
30%,
Balance:
30 days before departure
This price includes:
7 nights in nice hotels or agritourism
7 breakfast + 2 dinners
Welcome meeting and tour briefing
Maps, route notes or GPS tracks
Luggage transportation inn2inn
Telephone assistance
Transfer in from Alghero airport
Transfer out to Cagliari airport
Solo Traveller: € 250
Single room supplement: € 150
E-bike: € 225
Road Bike Carbon + Ultegra: € 225
Trekking Bike: € 135
High season supplement: € 250 (Jun 24 - Sep 08)
*Price per person based on 2 guests in double room. This price must be confirmed by our booking team
---
COVID FLEX RATE
Free cancellation for any reason till 30 days before departure.
Free cancellation for COVID-19 related reasons till 10 days before departure.
---