[:en]Tourism is more a social phenomenon than an industry. Nowadays we don't talk anymore about tourism, rather of "tourisms", meaning several ways to spend holidays. Still now, when I said we do organize cycling tours, some people don't trust us:)
Also we can say that uniqueness is the ultimate luxury, and some places struggle to create a kind of it, while here in Sardinia we still have a strong uniqueness.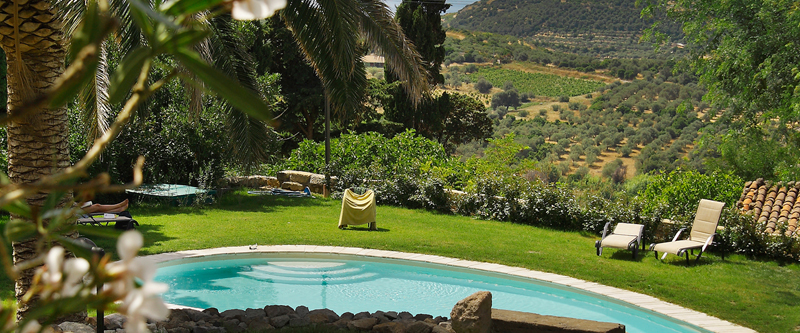 So, why we want to become like many other places, and above all, is it worth?
Let's try to explain with an example.
There are two tourists, mr. White, guest at the Pinco Palla Resort, one of several beach resorts in Sardinia, and mr. Red, guest of "Su Pistillone", a charming hotel inland.
To make it simple, let's assume that both spend for a three days holiday 1000€, distributed for food, accommodation, and some extra expenses, then we'll see what happens to their money. Also let's assume that the net income for the businesses where the money is spend it's 20% of 1000€, so 200€.
Pinco Palla resort
Mr. White likes to spending his holidays at the Pinco Palla Resort just in july and august, he could enjoy the beach also in June, with 35° C on a pristine and empty beach, but he doesn't like being alone on a big empty resort, because it makes him feeling like in 5 people in a huge club.
He sleeps at the resort, has its dinners at the restaurants of the resort, and no matter wich restaurant he choose, the food always comes from same distributor. Also he spends some money to buy a pair of "Poban", the popular italian shoe made in China.
Su Pistillone
Mr. Red likes going on holiday all year round, and he always chooses places with a local community, that's because he likes to know the local culture.
He sleeps at Su Pistillone, eating once at the hotel, where he tastes the lamb locally raised by the uncle of the waiter that serves him, and the following days at local restaurant out of the hotel, but still having local food. Then he buys a pair of custom hand made shoes, made by a local craftsman, for less then a pair of Poban.
Income distribution, international competion and labor system, economies of scale
Income distribution
Su Pistillone
The 200€ generated from 1000€ of Mr. Red have been distributed not just to the hotel, but also to local restaurants and local craftsman. There's more:
The dinners of Mr. Red helped local farmers, because they supply the hotel and local restaurants.
Pinco Palla Resort
The 200€ of Mr. White went all to the Resort, but there's more:
A – His dinners where prepared using food from a distributor that don't uses local products. In fact the resort F&B manager can't buy locally grown food at local market, either because it would be very complicated and not cheap using several kinds of food for each different restaurant, either because the local market just hasn't enough quantity to supply a resort that works just four month per year.
B – The management of the resort is distinct from property, and this one makes money not just from annual income, but above all from the increase of resort real estate, which is directly connected to its capability to generate income. So property changes every 2 or 3 years, because investors have to get they money back, at same time management has to "push" the productivity to increase the value of property.
Now let's pay attention: if the resorts has 400 rooms and can host 1000 guests, but is full just in July and august, how could it increase the income?
There are three paths:
Rationalize labor costs , have a longer season, have more rooms
Labor costs
Pinco Palla Resort
According to numbers, the resort has 1000 guests divided for 400 employees, so one employee per each 2.5 guests. But it suffers the competition of thousands of other resorts all around the world that can have much more employees because a less expensive labor, costs also it suffers because of the new resorts are newer, with constellation of stars, and in some you can even ski or sleep underwater.
Su Pistillone
This hotel has 70 rooms, about 180 guests and 70 employees, so like the resort about 2.5 guests per each employee.
But we should consider also the other people involved, like the local farmers that supply the hotel. Lady Natalina, owner and soul of the hotel, knows that she can count on her employees, because they can live all year round in their village, and they feel they belong to the hotel, that enhances the level of hospitality.
Tourist season
Pinco Palla
At the resort they can't work more then 4 or 5 month per year because it's a place focused on beach holidays, and the mr. White won't go at the beach before July or after September, also the resort it's far from villages so can be quite boring being there out of season.
The resort has 400 employees, full time for four months, so they are forced to leave every year to get a job abroad, or stay and ask unemployment. We can calculate how many days of work are produced in the resort:
400 employees * 120 days = 48k days of work
Su Pistillone
The tourist season of this hotel starts in march and ends in November, in fact the guests are looking not just for beach time and there's plenty to do in the whole area, hiking, cycling, sailing, climbing..wine and food tasting, sightseeing or just hanging around in the villages, and also choosing a different beach from may to October. Thanks to that all employees can count at least on 9 month of work. The occupation rate of the hotel is about 80%, vs 35% of the resort. That's makes 70 employees * 270 days = 18,900days of work. Well, the hotel has just 70 employees, but it involves also local farmers and businesses in its activity. Again the employees use their income on the area.
So, how to raise the income?
Pinco Palla
The last way to increase income on the resort is to increase the accommodation capacity, this way it could hos more mr Withes in July and August, and make money thanks to the economies of scale. How? Just building more rooms.
Su Pistillone
Su Pistillone hasn't got any interest to have too many rooms because in that case it should use a food distributor as a supplier, thus loosing its uniqueness.
At the end small hotels connected with local economy and culture have a better impact than big ones not related to local environment. And that's why we are proud to use them on our Sardinia Grand Tour 🙂